The information contained herein is, to the best of our knowledge complete and accurate on the date of issue however we cannot accept any responsibility or liability for any errors or omissions.Irish motorbike licences
DRIVING LICENCES FOR MOTORCYCLES
REGULATIONS
From 1 December 2007 motorcyclists on a learner permit (provisional licence) have had to wear a yellow, fourescent tabard (not a vest or jacket) with regulation sized L plates showing both back and front.. This applies to all learner permits\ provisional licences regardless of date of issue.
The requirement is that a person with a learner permit (provisional licence) for category A, A1, or M, shall not drive such a vehicle unless there are displayed on a yellow fluorescent tabard worn over the person's outside clothing, the letter 'L', not less than 15 centimetres high in red on a white ground in clearly visible vertical positions to the front and rear of the person's torso.
From 30 October 2007, there is a restriction in relation to making application for a driving test. From this date a person who is granted a learner permit for a vehicle in category A, A1, M, by a licensing authority and has not previously held, within the period of 5 years prior to the granting, such a permit in that category, is not entitled to make an application for a driving test within the period of 6 months from the day the permit comes into force. This provision also applies to categories W, B or EB. In order to ride a motorcycle or moped in a public place a person must hold a current driving licence or a Learner Permit in Category M, A1 or A.
Note also that carrying a pillion passenger when you only have a provisional licence or learner's permit is now a penal offence (ie; you can be imprisoned rather that just fined and given penalty points, which can also happen!)
The 'A' is Learner Permit from 18 years of age for motorcycles, with or without a sidecar, subject to a power limit before the Driving Test and for 2 years afterwards of 25Kw/34bhp. or a power to weight ratio of less than 0.16kW per kg) – the restriction continuing for two years after taking out a full licence in that category. However, at a cost, virtually any bike can have its power reduced to come within these limits.
The Driving Test must be taken on a motorcycle over 125cc. This is the first-choice motorcycle licence.
The 'A1' Learner Permit is available from 16 years of age, but will restrict the holder to motorcycles of 50cc to 125cc and a 11Kw/14.5bhp limit. Even if you pass the '125' Driving Test, when you up-grade to a bike over 125cc you will need an 'A' licence provisional, a second 'test' on a bike over 150cc, and endure all restrictions.
The 'M' Learner Permit is strictly for mopeds, or engine-assisted bicycles, under 50cc with a top speed of below 45kmp /28mph and is available from 16. The holders of a full 'B' licence, with additional insurance, can also drive mopeds.
Note that both a Learner Permit and a provisional licence do not entitle you to carry a pillion passenger. Nor are you permitted to use motorways.
Any person wishing to obtain a third or subsequent provisional licence must have undergone a driving test within the previous two years. However, a person who is due to undergo a test and whose licence is expiring may obtain a 12 month provisional licence on production of their driving test appointment letter.
Application forms for the driving test are meant to be available from the licensing authority and most Post Offices, Garda Stations and Libraries. After filing your test-application you will receive a letter of acknowledgement with a leaflet "preparing for your driving test" and in due course an appointment for your test. Note the minimum cc.
Motorcycle Safety Associates Ltd – Rider Training Programme. flow chart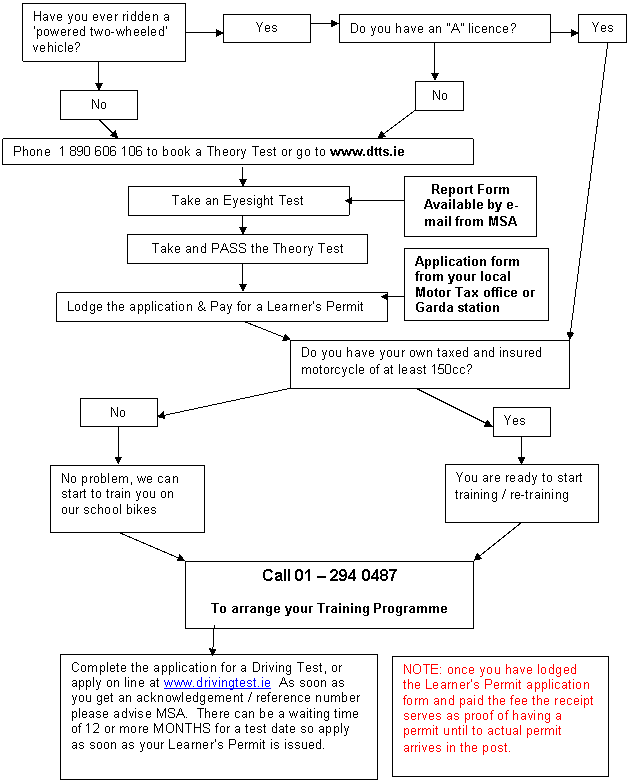 THE DRIVING TEST
You must learn (not just read once!) the "Rules of the Road" available from Post Offices, Easons and other bookshops, and we would also recommend "Motorcycle Roadcraft - the Police Rider's Handbook" also available from Eason's and other good bookshops. (ISBN 0-11-341143-X).
We strongly recommend that wherever possible, you seek the assistance of a good riding instructor. Whether you can obtain quality training or not, we recommend that you practice riding as much as possible on all types of roads and in different types of traffic situations.
The driving test is designed to establish whether you:
Know the Rules of the Road;
Have the knowledge and skill to ride competently in accordance with those rules;
Can ride with due regard for the safety and convenience of other road users.
When the day of your test finally arrives, you should be present at the test centre early. You will need to bring your provisional license, insurance certificate and will have to sign a declaration stating your bike is in roadworthy condition. Please Note;
The bike must be taxed and the tax disc displayed
Motorcyclists on a learner permit (provisional licence) have had to wear a yellow, fluorescent tabard (not a vest or jacket) with regulation sized L plates showing both back and front.. This applies to all learner permits\ provisional licences regardless of date of issue.
Tyres must be of adequate tread depth [Minimum for a bike is 1 mm] Your motorcycle must have a headlamp (white or yellow), a red rear lamp, a red rear reflector and rear number plate lighting.
It is not a requirement to have indicators, brake light or mirrors, but if fitted, they must be in working order. If not fitted, hand signals must be used in the test. You may be required to use hand signals as well as indicators. Using the mirrors is permitted but a quick "lifesaver" backwards glance in some situations when for example changing lanes would be required also.
Your appearance makes a lasting first impression, wearing good motorcycling gear; helmet with clean visor, proper jacket, proper trousers (NOT jeans), boots, good gloves and at least a bandoleer, better still a florescent vest gives the right impression, its says you are serious and sensible, not "Jack the Lad". Look the part and you are half way there.
It is in your own best interests to give a good impression and a clean and tidy bike and rider will look better than a scruffball on a "rat"!
After signing the declaration, you will be given an oral examination on the Rules of the Road and then asked to demonstrate the various hand signals.
Moving out to your machine, the examiner will check that it is in a roadworthy condition. You will then be instructed on what route to take, you are not in radio contact as in most countries, the examiner will be following behind you in a car (all motorcycle test examiners hold a full motorcycle license). In exceptional circumstances i.e. heavy traffic congestion the tester may observe the rider from on foot. Don't forget to apply the front brake when mounting the bike!
You may be asked to do left-hand circuits of a block and then right-hand circuits, and after a while he will pull in and flag you down. At some stage you will be asked to do a U turn in a quiet road which would normally be about 26 feet wide.
You are expected to do this turn 'feet up', but points may not be lost for using a foot to steady the bike. In the case of some race replica and full-dressed tourers, you may not be able to 'do it in one' so you are permitted to do a 2-point turn. What you have to do is show that you are in full control, and keeping a good lookout for any traffic, while performing the maneuver. You will then be asked to ride slowly, at 'walking pace' for around 50 metres, again to demonstrate your machine-control capabilities.
Remember to apply the rear brake with your right foot whenever stationary.
You will be asked to show that you know that any 3 of the following items are functioning correctly:

Tyres
Lights
Reflector
Indicators
Brakes
Steering Oil level(s)
Chain
Horn
Kill switch

You will be asked to show that you know how to put the bike on, and take it off the stand - either side or centre stand is acceptable.
You will be asked to move the machine safely without the aid of the engine, for 4 to 5 metres.
The test candidate will be provided with a radio receiver, and will receive directions from the tester via an ear-piece connection. The tester will follow behind the candidate in a car. The radio equipment will enable more extensive test routes to be used than has been the case. This means that the former practice of just learning the local test route has become a thing of the past. From now on you will need to be able to ride to the standard anywhere. Some short verbal feedback will be offered to the candidate by the examiner, at the end of the test.
That's it! If you pass you will receive a certificate of competency to drive which is valid for two years - if you do not take out a full license during this period you will obliged to pass the driving test again.
Please note a Certificate of Competency is not a full license and it does not entitle you to drive on motorways or to carry a pillion passenger. You must exchange this certificate for a full license
If you fail you will receive a detailed report on the faults that occurred during the test. The most common causes of failure are:
A lack of "observation" - this includes rearwards observation (tip: you might be able to glance in your mirror without a perceptible movement of your head, but how can an examiner, perhaps 50 yards behind you in a car be convinced you have? So move the head a bit - just enough to show you were looking).
Lack of Progress, going TOO slowly, very common especially at right hand turns. (Conversely, this does not mean cutting across approaching traffic at high speed to do the right hand turn, simply that you should not ride around in a hesitant manner). If you don't look capable examiners tend to think you aren't!
Inadequate Signaling: far less of a problem if you have indicators and use them properly and effectively and remember to cancel them.
Road Positioning: from observation this is where many an 'experienced' motorcyclist falls down. It ought to be possible for a vehicle behind you to discern your intentions from your positioning on the road. Attempting a right turn from the left gutter, or a left turn from the white line are not procedures calculated to impress an examiner.
Passing too close to parked cars and pedestrians: car doors can open suddenly (always assume they will!) so ride that if one did your path would be clear of it. So too pedestrians, by now you should KNOW most step off the kerb and, if they look at all, they look LEFT - and you are coming from the RIGHT!
The test is very, very basic . Passing this test DOES NOT MEAN you are a safe, capable and proficient motorcyclist ready to ride anywhere, at any time in all conditions. You are still, very much, "an accident waiting to happen". We most strongly recommend further post-test training, such as the MSA Intermediate or Advanced courses which aim at a very high all-round standard and includes riding at night, in adverse conditions, on motorways, carrying luggage and carrying a passenger. Beyond that there is the very demanding Advanced Test which is the highest civilian qualification you can attain.
Statistics show that approx 50% of those who take the test fail first time. Those who have been trained by us and completed a Pre-test course have achieved a 98% pass rate. Depending on the amount of prior training you have had a Pre test takes from3 to 6 hrs in most cases.